Lighthouse Business Management System
Powerful cloud-based management and reporting tools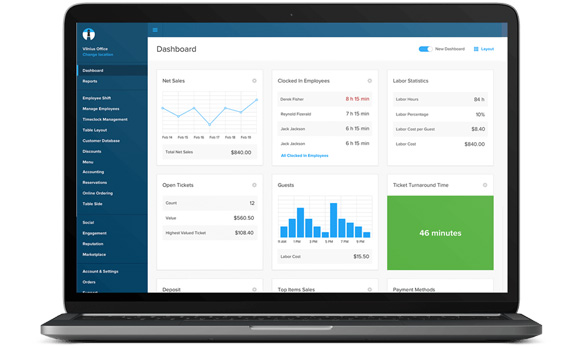 Remote Reporting and POS Management
The powerful Lighthouse platform provides you with remote access to your Restaurant POS system 24 hours a day, 7 days a week. Moreover, Lighthouse enables you to view reports online, make changes to your menu remotely, and manage your employees from anywhere.
Now you can work where you want, when you want!
REAL-TIME REPORTING AND ANALYTICS
Take control of your restaurant with powerful POS reporting capabilities from Harbortouch.
Sales reports
Tracking sales is essential for the success of any restaurant. Sales reports will give you actionable insights into what you're selling and when.
Labor reports
Labor costs are a big chunk of your expenses and should be thoroughly monitored. High labor costs and low revenue is a recipe for disaster.
Menu and product reports
Are dinner specials not selling like they did last year? Do you see an uptick in delivery orders month over month? With Harbortouch's menu and product reports, you can find answers like these and turn data into actionable tasks.
BRAND MANAGEMENT AND CUSTOMER ENGAGEMENT TOOLS AT YOUR FINGERTIPS
Having an online prescence is a powerful and cost effective marketing strategy for any business – especially for a small business on a tight budget.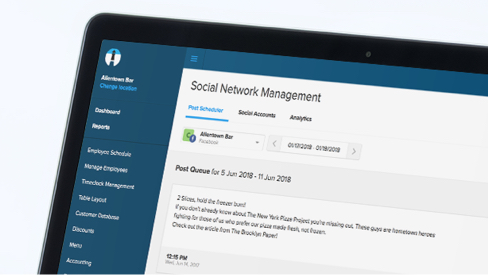 Manage social media accounts
For example, schedule posts, track performance of your content, and manage all your social media activity in one place.
Manage your online reputation
Furthermore, view ratings and reviews from multiple online review platforms. Easily respond to customers to maintain your brand.
Easily engage customers
Additionally, set up welcome emails, promotional offers, and so much more. Use built-in tools to improve customer loyalty.
POS SETUP, INSTALLATION, TRAINING, AND SUPPORT
Most importantly, to ensure a flawless setup, every Harbortouch restaurant POS system comes with professional installation, comprehensive training, and 24/7 in-house support.
On-site installation
Comprehensive training
Unparalleled support
---